AFFORDABLE - QUICK - FREE
20 FOOT SHIPPING CONTAINER
If you are planning on an international move and are thinking about shipping your valuable household goods via ocean freight, then you must be looking for compact efficiency with maximum security. In that case, 20-foot shipping containers are the undisputed champion. 
One of the first steps in the international move is deciding what type of shipping container you will need, and it's essential to know the dimensions and size of a 20-foot container to know how much you can fit in it.
20-FOOT CONTAINER DIMENSION
A 20-foot container's internal dimensions are:
In feet: 19' 4" long x 7' 9" wide x 7' 10" high
In meters: 5.898m long x 2.352m wide x 2.393m high
Usable Capacity: 32.6m3
EXTERIOR
INTERIOR
DOOR OPENING
CAPACITY
Length: 20′
Width: 8′
Height: 8′ 6″
Length: 19′ 3″
Width: 7′ 8-1/2″
Height: 7′ 10-1/8″
Width: 7′ 8-1/4"
Height: 7′ 5-3/4″
Cube Capacity: 1,120 cu. ft.
Max Gross: 67,200 lbs.
20-FOOT CONTAINER VOLUME
As a general rule, the household goods of a one- to two-bedroom apartment will fit into a 20-foot container.
Here's an illustration of what fits into a 20-foot container using a typical 80m2 apartment as an example: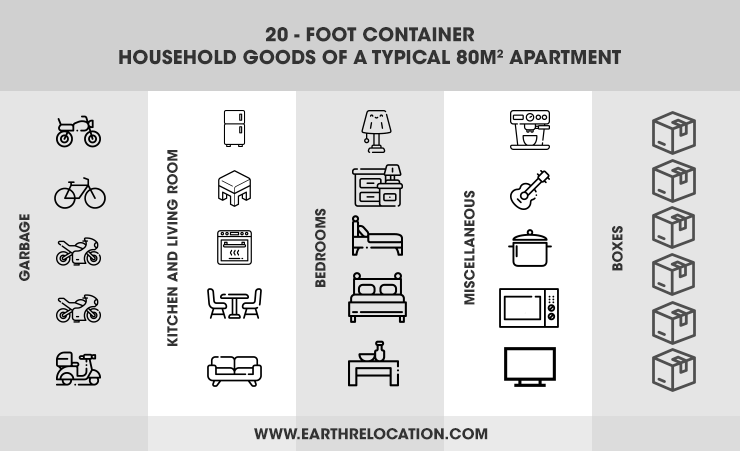 A 20-foot container can hold:
200 full-sized mattresses
48,000 bananas
50-60 refrigerators
400 flat-screen TVs
100 washing machines
10 standard pallets
HOW TO PACK FURNITURE INTO A 20-FOOT CONTAINER?
Loading a container for an international move can be tricky and complicated when you are trying to avoid the property damage. Here are some simple tips to follow:
Disassemble anything that can be re-assembled and carefully pack them in right size boxes
Using bubble wrap to protect your items during the move
Stack boxes on top of one another to utilize space
Place lighter items above higher items
If you think a 20-Foot Container won't be able to accommodate your goods, you may need to consider a 40-foot shipping container.
SHIPPING VEHICLES IN A 20-FOOT CONTAINER
A 20-foot container can fit two small cars in it. But it is usually not recommended as the vehicles will be partially overlapped and that will require container straps to suspend one over the other. Depending on the car's size, most cars will fill a 20-foot container with a small amount of space left over for other cargo. There are high chances of property damage when you are planning to do auto shipping using FCL instead of LCL shipping because of the limited space.
Each country has its own regulations on auto shipping/ vehicle imports, and individual country's restrictions may not allow you to import your vehicle into your destination country at all. we advise you to do a proper research with the customs authorities of your destination country.
COST TO SHIP A 20-FOOT CONTAINER
The cost of shipping a 20-foot container will vary depending on a number of factors, including the nature of the items you are sending and the destination country. Contact 855-553-2784 for any further inquiries.